In March last year, Twitter changed its rules of conduct on the network, which other platforms, such as Instagram, Facebook and Flickr, already do sporadically. The change happened without fanfare, and you can see why.
"In 2019, Twitter quietly changed its terms of service to allow discussions of 'attraction to minors' on the condition that 'they do not promote or extol child sexual exploitation in any way'. Child protection and abuse prevention experts were not consulted because we would never have endorsed this change, "Australian criminologist Michael Salter has posted on Twitter.
In 2019, Twitter quietly changed its terms of service to allow discussion about "attraction towards minors" with the provision that "they don't promote or glorify child sexual exploitation in any way". https://t.co/XYz9QQrLiI
– Michael Salter (@mike_salter) January 3, 2020
In a series of tweets, Salter shows how dangerous the situation is. "It's proven insecure to promote unmonitored public conversations between large groups of pedophiles. Their sexual desires and social inclusion were prioritized by Twitter over the safety of children on the platform or in the community. Last year, pedophile networks on Twitter exploded "he says.
(Source: Twitter / Reproduction)
End-to-end encryption, which is gradually being employed in messaging services (which Facebook has announced that Messenger will soon have), is a way to make platforms safe for pedophiles, as images of child abuse can be sent undetected. According to a survey by the New York Times, WhatsApp, a Facebook application that encrypts end-to-end messages, provides police with a fraction of the reports with reports that Messenger now delivers to authorities.
"Meanwhile, Twitter's head of Product celebrated the encryption of the social network's direct messaging system. What else can Twitter do to make its platform friendlier to pedophiles?" Sauter was outraged.
Climbing without control
According to statistics from the Internet Watch Foundation (IWF), the UK's online abuse watchdog, over the past 3 years, 49% of videos, links and images found on social media, search engines and cloud services originated from Twitter: 1,396 cases out of 2,835 reported incidents. Each record, in turn, can represent hundreds or thousands of images or videos, as they are actually links to child abuse sites.
Worst of all, all the material IWF found was on the open web, meaning the material had already passed through the technology companies' filters (including Twitter) and was available for anyone to click and access at will. And the numbers keep growing: 742 cases reported in 2016, 1,016 cases in 2017 and 1,077 cases in 2018. This is even more frightening when IWF finds that it has no access to private Facebook groups or links exchanged on WhatsApp.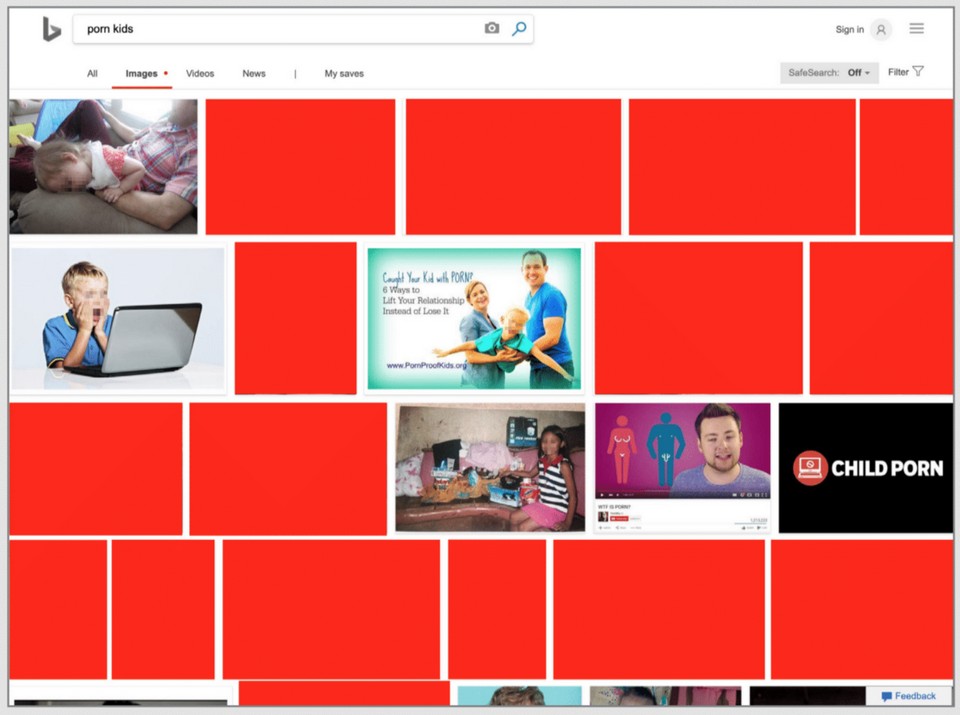 In January 2019, TechCrunch found that Microsoft's Bing searcher not only showed child exploitation images but also suggested keywords and images related to child pornography. (Source: TechCrunch / Reproduction)
John Carr, secretary of the UK Internet Security Coalition, told The Telegraph that "it's scary and scandalous that thousands of child abuse images are openly available on social media and search engines for anyone to see. The industry have to eradicate this evil from its foundations, and Twitter in particular needs to tidy up your home. "
Open Web Overcomes Deep Net in Child Pornography
In a special report on the advancement of child pornography in the world, the NYT has raised scary data involving technology companies around the world. In 2018, they recorded more than 45 million online photos and videos of sexually abused children, double 2018.
And the escalating numbers suggest that we have reached an unsustainable situation: if in 1998 more than 3,000 reports of images depicting child sexual abuse were investigated, in 2000 they surpassed the 100,000 barrier and in 2014 they reached 1 million.
In 2018, there were 18.4 million concrete cases, and this universe could be much larger: the allegations included more than 45 million images and videos flagged as suspected of portraying child pornography.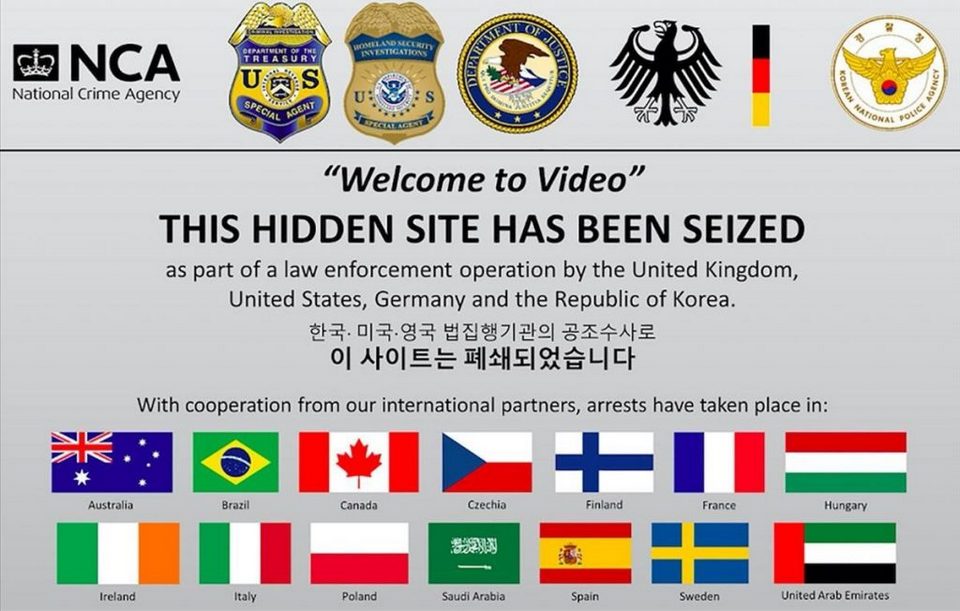 In October 2019, an international operation arrested more than 300 producers and consumers of child pornography in 38 countries, rescued 23 children and closed thousands of websites. (Source: AFP / Playback)
The advance of message encryption causes authorities to race against time. Messenger alone accounted for 12 million of the 18.4 million reports made globally reporting child pornographic material. And most worryingly, pedophiles are now clearly acting on social networks: the cases investigated on the deep net were only a fraction of the reported abuses. The bulk of the activity comes from US technology companies.
One of the most problematic is Tumblr. According to the NYT, an image of a man abusing a child orally was aired on the net for a year while police tried to get account information anyway – the investigator retired before Tumblr responded.
"The best tool since the Polaroid camera"
Former US federal prosecutor Hemanshu Nigam, who has worked for years on pedophilia and child abuse cases online, "for over 2 decades, new technologies have created the best tool for pedophiles since the Polaroid camera."
That seems to be the opinion of people fighting for the end of online child pornography. "Companies knew that the house was full of cockroaches and were afraid to turn on the lights. When they did, it was worse than they thought," engineer Hany Farid, who worked at Microsoft in 2009 developing tools to detect detectors, told NYT. child pornographic material.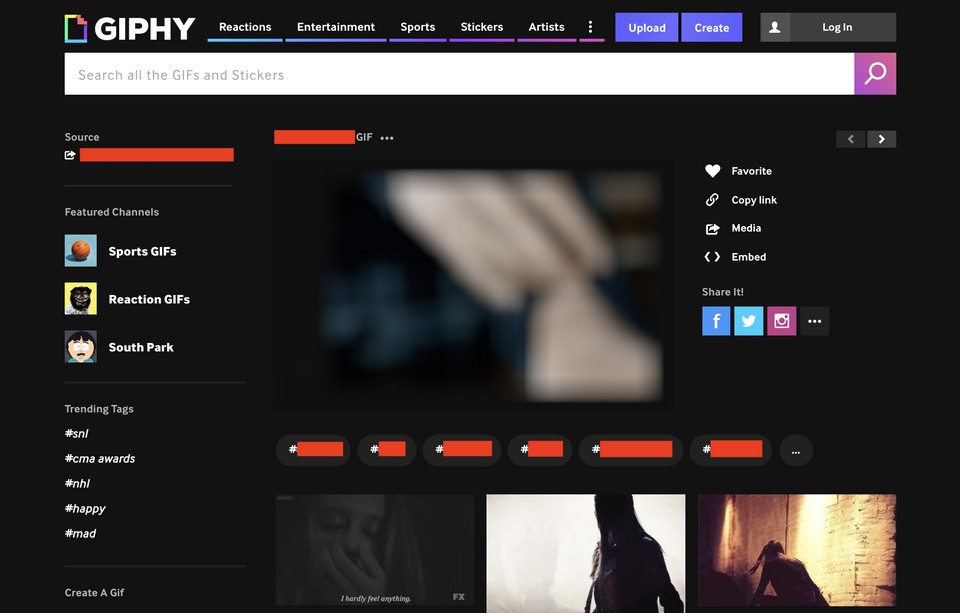 While forbidden, Giphy, the popular GIF search and creation network, hosts thousands of images of children being sexually abused. (Source: TechCrunch / Reproduction)
"For over 20 years, technology companies have been burying their heads in the sand when it comes to online pedophilia. Pedophiles need early intervention, treatment and support for behavior change. They don't need a public forum (on Twitter) to discuss his sexual attraction to children ", summarizes Salter.
TecMundo Discount Coupons: