The last episode of the first season of The Mandalorian, released at Disney + last Friday (27), brought for the first time in a live-action production of the Star Wars universe one of the most legendary weapons: the Darksaber.
Of great importance to the people of Mandalore, the brightened black light gun appeared wielded by Moff Gideon, character played by Giancarlo Esposito (Breaking Bad), at the end of the chapter, which brings assumptions and expectations for the future of the series.
Following events that led the protagonists to escape Gideon, The Last Scene of Season 1 of The Mandalorian shows the villain resurfacing from his ship – destroyed by the protagonist (Pedro Pascal) – carrying the ancient and unique Mandalorian item used to unite the band. people. This object is even presented in some episodes in Star Wars animations, hitherto largely ignored by the main franchise.
Final scene from The Mandalorian episode that reveals the Dark Saber. (Source: IMDb)
After all, what is the weapon and how did it come about in the series?
The animation Clone wars tells that the Dark Saber was created by Tarre Vizsla, the first mandalorian of the Jedi Order. After his death, the artifact was kept in the Coruscant Temple until the conflict between the Jedi and members of Casa Vizsla during the fall of the Old Republic. After that, his possession was maintained until a duel between Pre Vizsla – one of the descendants – and Darth Maul, with victory of the Sith and thus new owner of the rare saber who remained secret.
Years later in Star Wars: Rebels, the item was discovered by Sabine Wren – a Mandalorian – and Kanan Jarrus – a Jedi – who trained her to learn how to use it during one of the most important battles in the animated series. She then handed the weapon to Bo-Katan Kryze – another Mandalorian – at the end of this story, which is about a year before the events of Star Wars IV: A New Hope.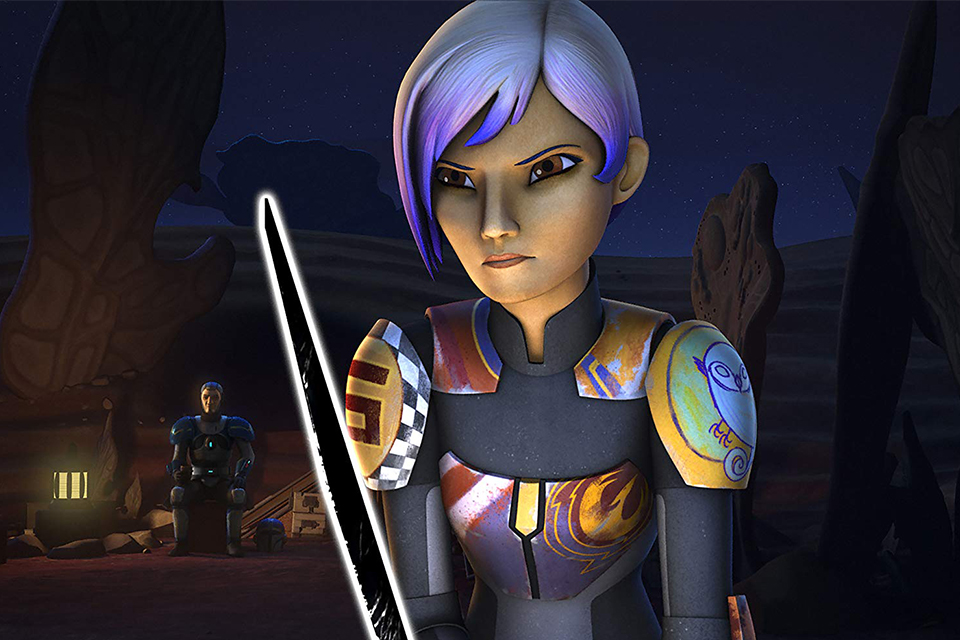 Sabine with the Mandalorian weapon in "Rebels". (Source: IMDb)
Thus, the last known whereabouts of the Dark Saber had been with members of Mandalore. In The Mandalorian season finale, Moff Gideon describes a battle in which several Mandalorians were decimated, suggesting that the villain was responsible for Bo-Katan's death and for taking possession of items from that people, including the saber himself.
So with The Mandalorian Season 2 already confirmed, we expect to see Shadow Saber again. In addition, we may know which directions will be taken for a further transfer of the legendary weapon, from Gideon to the Mandalorian protagonist, as he is one of the few survivors of this people and original owner of the object.
TecMundo Discount Coupons: